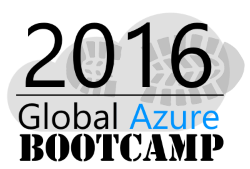 Pagina de înregistrare: itcamp-community-2016-04.eventbrite.com
2016 este al patrulea an când organizăm Global Azure Bootcamp – acesta este un eveniment la nivel global care are loc în peste 136 de locații. Ca și anul trecut, Clujul nu se lasă mai prejos și apare pe harta Azure. Pe data de 16 aprilie vă invităm pe toți la acest eveniment din Cluj-Napoca, care va conține 3 workshop-uri.
Participarea la eveniment este GRATUITĂ, așa cum a fost și până acum la orice ITCamp community event. Pe data de 16 Aprilie ne propunem să avem 3 workshop-uri de câte 90 de minute fiecare, unde putem să învățăm împreună cum să folosim diferite servicii Azure. Fiecare workshop conține o parte teoretică și una practică. Din această cauză, o să aveți nevoie de un laptop.
De ce aveți nevoie:
Dacă doriți puteți să vă grupați în grupuri de 2-3 persoane la același laptop.
Survey: https://onedrive.live.com/redir?page=survey&resid=BB7D9F52E4FDB024!610319&authkey=!AK5eHGpNIB-Pyk0&ithint=file%2cxlsx
Program:
09:00-09:30 – Sosirea participanților
09:30-11:00 – Azure Service Fabric in Action (Radu Vunvulea)
Create our first microservice and deploy in our local cluster
Communicate between instances of our Reliable Service using Reliable Collections
Create and manage our first Reliable Actor
Use events to communicate between our Reliable Actor and Reliable Service
Play with partitioning and replication level
11:00-12:30 – Service Bus hands-on (Radu Pascal)
Create instances for Service Bus Namespace from Azure Portal
Use Azure Service Bus Explorer to create and manage a Topic (including filters)
Create a sender for our Topic
Create a receiver app
Explore poisonous messages and dead letter queue feature
Play with long running handlers
12:30-14:00 -Azure SQL Database – Everyone's intelligent cloud database (Silviu Niculiță)
Scale database performance on the fly, without app downtime
Build multitenant apps with customer isolation and efficiency
Work within your preferred development environments
Protect and secure your app data
Mulțumim sponsorilor pentru susținere!
Pentru orice fel de informații nu ezitați să ne contactați,
Radu Vunvulea (vunvulear#gmail.com)